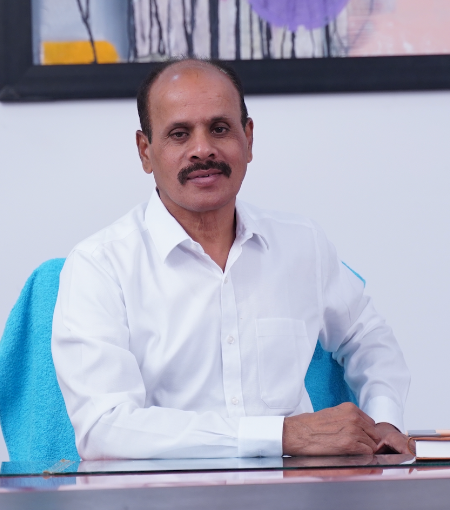 Chairman
Chairman`s Profile
The Hon'ble Chairman Sri Chalama Reddy Sir is an academic luminary and an able administrator who has been rendering his commendable services in the sphere of education for over three decades. Having post-graduated in both Mathematics and Education, he initially served as an ace faculty in Mathematics at Narayana Junior College for five years.
With the aim of imparting quality education at the higher level, he was enthused to initiate Sphoorthy Degree & PG College at Dilsukhnagar, Hyderabad, in 1993. Within no time, he steered a couple of colleges of education in Hyderabad and an engineering college near Khammam. Taking a cue from the success emanated from the former initiatives, he established Sphoorthy Engineering College under the auspices of Thoma Educational Society, in 2004. His pragmatic approach and persistent efforts in maintaining quality standards have brought the institution to its pinnacle.
Besides being a successful educationist, he fostered an idea of providing free education to the underprivileged sections of the society as a sign of philanthropic gesture throughout his professional journey.
Chairman`s Message
Continuing to set the standards for qualitative technical education for future generations, our institution takes pride in nurturing socially responsible leaders with an entrepreneurial mindset that broadens their knowhow in emerging technologies, and, in turn, transforms them into world-class technocrats.
Since discipline and decorum has been a buzzword, the institution advocates effective teamwork, collaborative problem-solving traits and a sense of purpose combined with unyielding passion that would, altogether, foster down-to-earth personalities of tomorrow.
It always keeps us on our toes when it comes to keeping up our promises made to the parents that the lives of their wards be transformed into self-sufficient personalities, by the time they exit this institution. All that could be made possible, through the years, by dint of immaculate efforts of the placement faculty who constantly put their heads together for securing 100% placements.
I opine that the students should endeavor to realize the dreams of their parents, with an overall sense of responsibility towards the society and the nation, at large. I would appreciate the parents who confine their wards to use the mobile phones for the very basic purpose. It is also imperative on the part of the parents to act upon drug abuse and rash driving which jeopardize the students' lives, drastically.