Immense talent and innovativeness reign at Sphoorthy, which have echoed various achievements. Our faculty and students are the bloodline for holding several prestigious titles. They flourish at the campus level, and then apply their skills effectively on various platforms. Their mettle is evident in several programs, like science fests, publications, workshops, MNC placements and so on. This winning spree is instrumental in making Sphoorthy as the best engineering college in Hyderabad.
Sphoorthy Engineering college Approved by Google for Google Cloud career Readiness program
Third year student of CSE DEPT Rienie Niharika worked as intern in XLENZ LLP, USA. Developed application for COVID tracking during pandemic time in 2020 using AR/VR technology.Her contributions were recognized and awarded by commissioner of police Hyderabad Shri Anjani Kumar sir. SPHOORTHY engineering college is proud of her achievement.
QUANTUM LEARNING MOU with our college is materialized and launched.
Instituional Leadership Award – 2020 at ICTIEE-2020 Hyderabad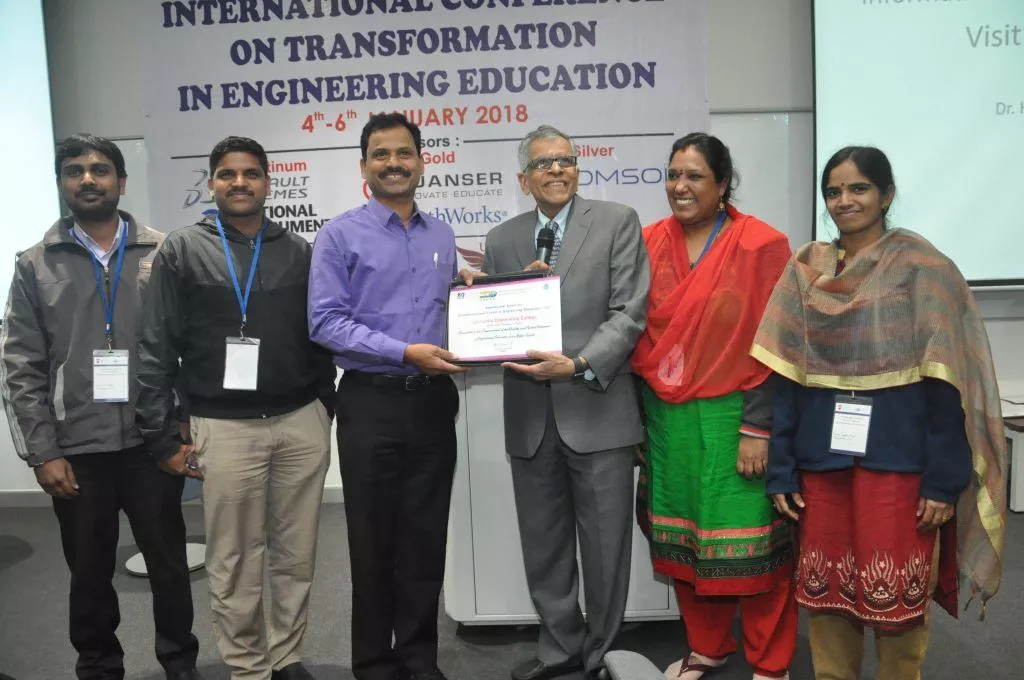 Mr.S.Jagan Mohan Reddy,Secretary and Correspondent, More than 80 faculties along with all the Heads of Department Attended 3 days International conference On Transformation In Engineering Education-2020 ICTIEE-2020 at Anurag group of Institutions on 5-8 January 2020
Our college got Recognition AWARD on DIGITAL LEARNING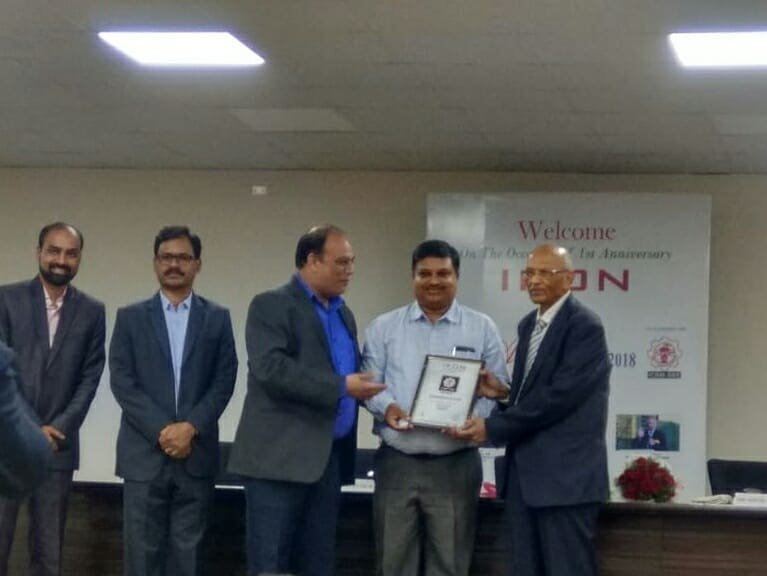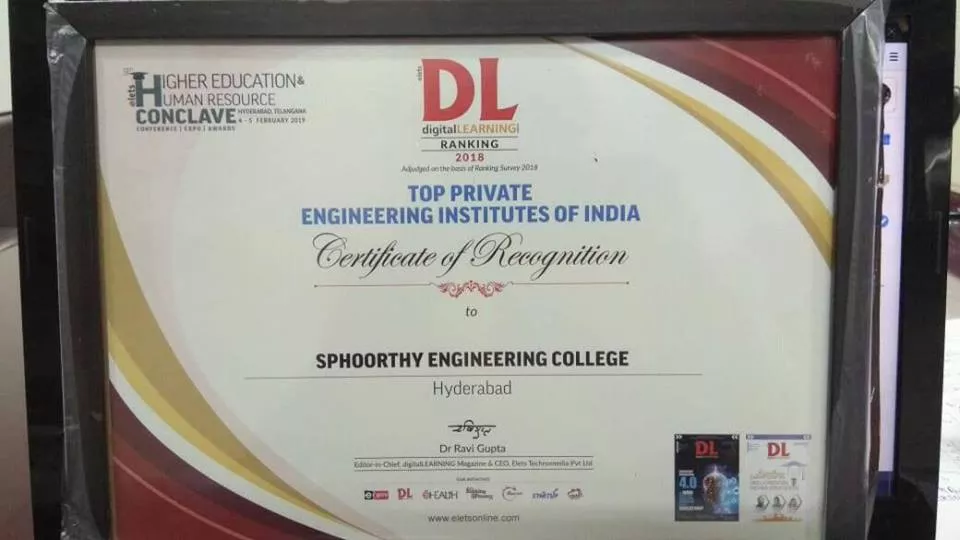 Our college got Recognition AWARD on DIGITAL LEARNING
Sphoorthy Engineering College Chairman Sri S. Chalama Reddy Received world wide achiever award from Union Minister Sri. PURSHOTHAM RUPALA – "Most Promising Engineering College with talent Faculty in Telangana state" on 26-3-18 @ New Delhi.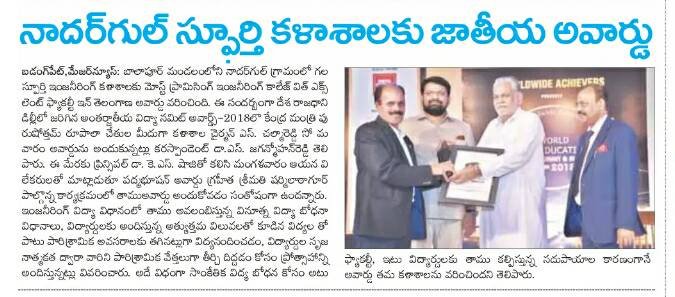 Sphoorthy Engineering College got one year service award and Mr. N. Anjaneyulu, Asst. Professor, CSE got one year instructor service award to Mr. N. Anjaneyulu, Asst. Professor, CSE also got Global IPD award.
Sphoorthy Engineering College has been awarded for Best and Active College by IUCEE during International Conference on Transformations in Engineering Education as Transformational Instituional Award. Sri S.Jagan Mohan Reddy, Secretary and Correspondent was applauded for Visionary leadership. Bennet University felicitated Secretary Sri S.Jagan Mohan Reddy.
Director Dr. prof. V. Chandra mouli sir received DEVANG MEHATHA "BEST ACADEMIC LEADERSHIP AWARD" @ Taj Deccan, Hyderabad, this morning(17-11-17)
On Task Day our College Secretary Sri S. Jagan Mohan Reddy got award for Visionary Leadership from Task on 15-9-17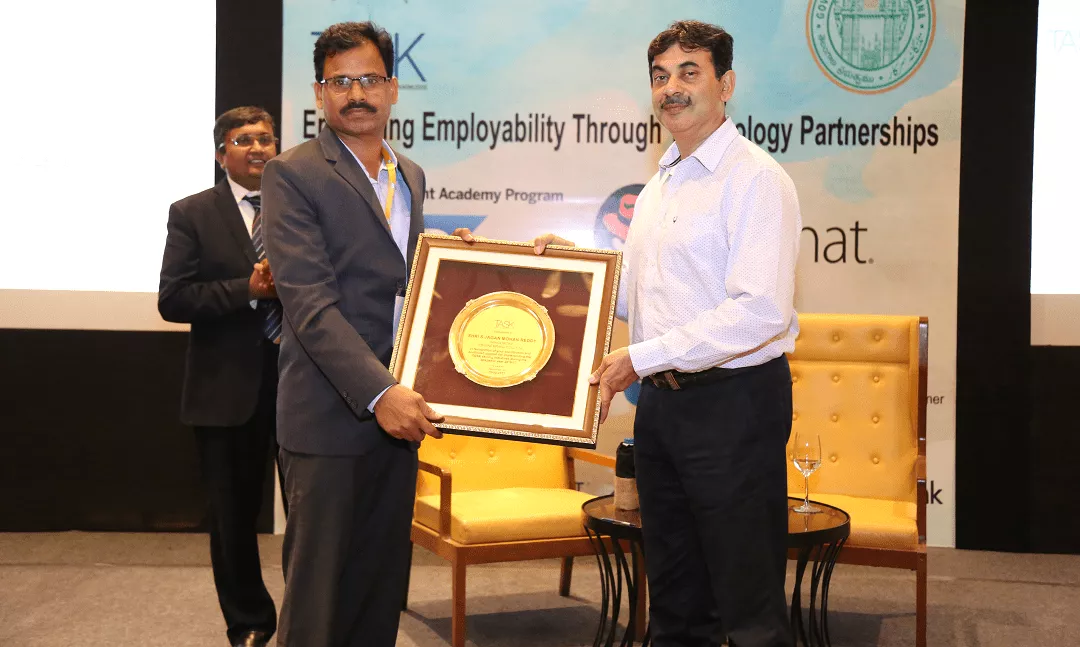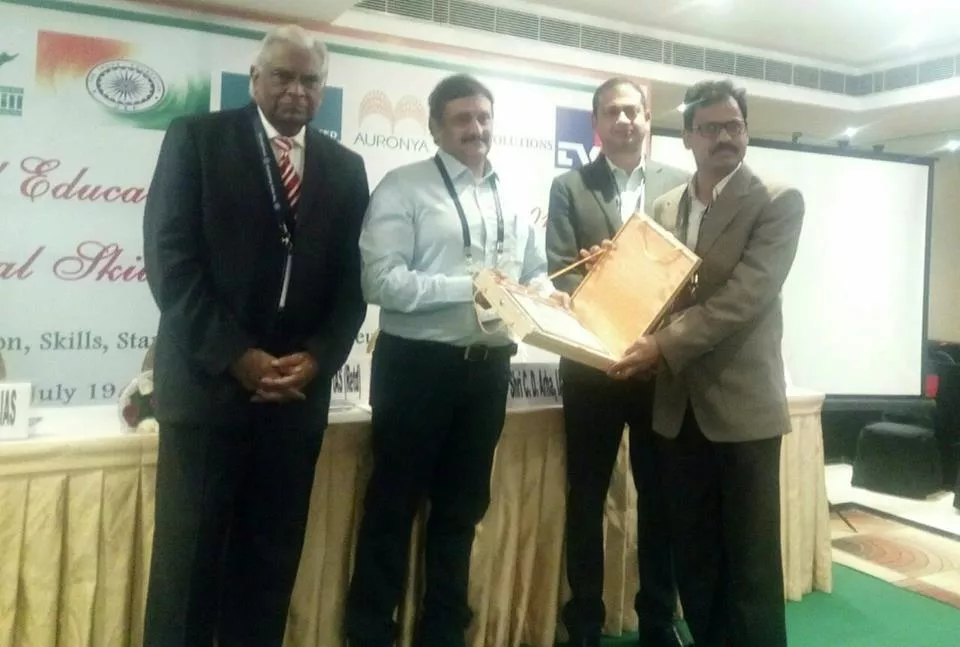 Our Secretary S. JAGAN MOHAN REDDY has receivied an Educational Excellence award by Indo Global Foundation.One more milestone reached by our sphoorthy engineering College that our college was nominated as a Best Educational Excellence award for 2017 by prestigious foundation by named INDUS Foundation in collaboration with ministry of Education. Tomorrow at Taj Deccan on the event of Indo- US Educational summit our Secretary S. Jagan mohan Reddy sir has received the prestigious award. Out of 450 nominations from south Indian colleges , only 4 colleges were nominated as the Best Educational Excellence.